NEWS: SPL Appointed as Lenovo's Sole Out-of-Warranty Authorized Parts Distributor in Africa & the Middle East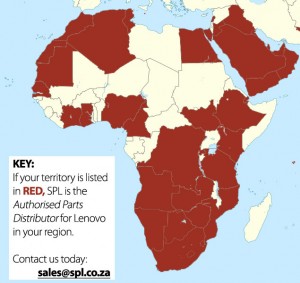 SPL Appointed as Out-of-Warranty Authorized Parts Distributor for Lenovo in Africa & the Middle East
Service Parts Logistics (SPL), Africa's largest parts management and supply firm, has been appointed by Lenovo as their sole authorized distributor for Out-of-Warranty (Trade) spare parts in 38 countries in the Middle East and Africa region, including South Africa, Egypt, UAE, Morocco and Saudi Arabia. Lenovo is the world's second-largest PC maker, the fastest-growing major PC company, and number 1 in global commercial sales, global emerging markets and worldwide desktop PC sales.
Improving Service Levels; Reducing Costs
By authorizing SPL as its Authorized (Trade) Parts Distributor for the region, Lenovo looks forward to continuing and improving its high standards for customer service. SPL has a record in the industry of improving service levels and drastically lowering costs for major PC brands.
By outsourcing these specialized business processes, Lenovo is able to plug directly into a world-class trade parts distribution structure, utilizing the specialized skills and tools which SPL has developed over its 23 years of operations in the complex area of ICT service parts.
"Lenovo is fully committed to the PC space for the long term.  We will continue to drive growth and innovation in PCs while expanding our business across the four screens (PC, tablet, smartphone, smart TV) of devices and into the ecosystem of cloud, services and other applications that make up the PC+ market," said Roger Mark, executive director, parts sales, Lenovo Global Services. "SPL's experience as a specialized Service Parts company can make a significant positive impact.  We look forward to a successful relationship with SPL."
Rapid Growth Calls for Continuous Improvement
As a $30B company (ZAR 252Bn; number 450 on the 2011 Fortune Global 500), Lenovo is a next-generation global technology company. In addition to maintaining its long-held commitment to delivering innovative, high quality PCs, Lenovo is expanding its product portfolio to include tablets, smart phones and smart TVs.
SPL's managing director, Steve Cox, concluded: "We're delighted to be working with Lenovo. It is a great brand and we are proud to be associated with the Lenovo team. We are confident that we can add a great deal of value to Lenovo business across the region, allowing more focus on growth and serving customers."
SPL will complete the rollout of Lenovo spare parts across all 38 countries by June 2012.